For both employees and employers, finding the right job match can be a difficult task.
For employers, how much can you get from a resume and interview? For potential employees review sites can often be misleading, with fake reviews—both positive and negative—giving false impressions of companies.
MogulRecruiter, a new company made up of former hotel executives, has created an AI-driven solution for those in hotel operations to find each other—with information that is accurate. "Finding talent was the most difficult thing we'd ever experienced, and whether it was working in big companies or in smaller ones…it was equally challenging to get great talent and to retain them in our business," said Alex Mirza, CEO, MogulRecruiter, who has been in senior leadership with companies including Hilton and Cachet Hotels & Resorts. "It is not just the frontline, but all levels. You end up spending half or more of your time. It was really painful and difficult with the ecosystem and the cost."
About three years ago, the company's leadership decided to build a talent marketplace for hospitality. "It is the kind that wasn't built before, where talent was actually valued, and there was a number put beside everyone and they were ranked, and then their employers were ranked, as well," he added.
MogulRecruiter has a data relationship with LinkedIn, Google and customer review engine TrustYou to help them build their rankings and make their evaluations. "We had to map that in all these different fields and algorithms and tables to be able to do this, and scale it and then double check and triple check it and make sure it's right," said Mirza.
The company's algorithm ranks employees by evaluating their service, market and brand scores. Beyond their service performance, it adjusts for market difficulty and credits those who are improving non-category leading brands. "We have a pretty sophisticated algorithm on ranking talent," said Mirza. "There's the service score that we map to the properties that they've worked in, and we can drill that down about 30 levels. We map it to their tenure. And when they're working in the company it's indexed."
After coming up with the rankings of employees, the company created a methodology to rank the hotel operators that they work for. Only companies that operate at least five different hotels in five different markets are included. "We looked at the quality of their people and their talent, and we'd already scored all the talent," he said. "…We were able to rank the employers by size, by employer type, and we looked at the quality of their talent, their top 10% or their top 20% and looked at them across the top 20 positions."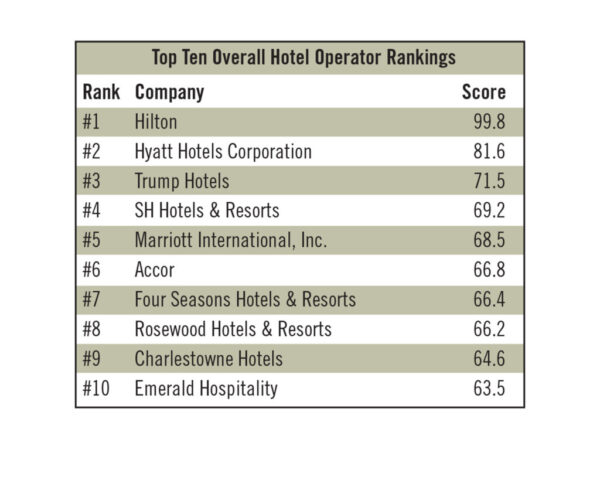 Mirza likened the rankings for companies to sports teams. "We're just trying to see, where are the all-stars?" he said. "Where are the high performers? Where are the above-average players? Is this team winning because they've got depth and a broad gray team, or is it because there's a couple of all-star players that are carrying the weight?"
The information taken for the rankings is focused on the properties, unlike many other rankings which are based on corporate offices. "That's where we think that there is a gap," he said. "There are a lot of companies out there that do rankings, like Fortune and Forbes. They rank employers on their corporate office, and where we think the real action is for diversity, where the improvement needs to be made, is in the properties. And so, in terms of our data set for this particular employer ranking, it's the top 10 positions in the property, so it's the GM, and it's all the GM's direct reports, and there's a few other people below that as well. So, think of it as the top 10 people in all of the hotels that are operated by these companies."
That same methodology was used to rank companies for diversity. "We went deeper and did it for women and minorities and then even deeper and did it for Blacks," he said. "I don't think it's ever been done before, because you're talking about the entire U.S. market, and a big data set."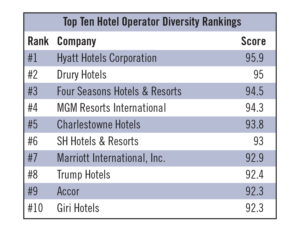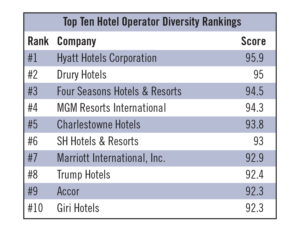 Mirza hopes that the information found on diversity will help companies progress in that area. "In order to get progress in diversity, you're going to have to look off the beaten path because there's just not enough of it in our business," he said. "The gap is so big; it's daunting even against the goals they've set for themselves. There's a tremendous amount of work to do. It's an inflection point for our industry. We were fortunate that we timed our company to launch during this period where people are questioning things and looking to do things differently.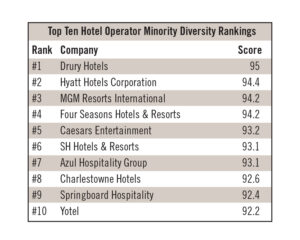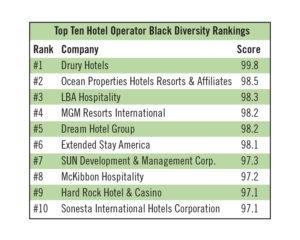 The data found on the hotel operators was startling, according to Mirza. "There are some companies like Hilton ranked No. 1 for talent, and overall, but they ranked in the middle of the pack for diversity," he said. "Then there are a group of small luxury hotel brands that rank—as you might expect—the best for talent, like Four Seasons. SH Hotels did extremely well and Trump Hotels did extremely well in talent."
Mirza said that the rankings for companies on MogulRecruiter are more accurate than what you might find on other sites like Glassdoor. "There' so much noise on Glassdoor," he said. "There's a lot of fake reviews, and there's also a lot of inaccurate entities so people are not really reviewing the brand. And because it's franchise, they're not correctly reviewing the right employer. So, 80% of the data on Glassdoor for our business is incorrect. It just doesn't map."