TALENT

DISRUPTION
PEOPLE ARE THE BRANDS
How Hospitality Competes In A Turbulent World
1

"Alex Mirza's research provides compelling insights for what hospitality stakeholders must do to build human capital and achieve a higher purpose in these extraordinary times. Talent Disruption is not just recommended reading, it is required." -Geoff Ballotti, President & CEO of Wyndham Hotels & Resorts, and recipient of the Arne Sorenson Social Impact Leadership Award.

2

"There Is a huge need to update our traditional HR logic in the face of the dramatic changes that have befallen the hospitality industry.  With Talent Disruption, Alex Mirza has taken that step and advanced our understanding of how to use the new technology tools to address the considerable talent issues facing service firms.  This is an absolute must read!" Leonard A. Schlesinger, Baker Foundation Professor, Harvard Business School and co-author of landmark bestseller The Service Profit Chain

3

"As large language models automate away busy work, building human capital is a monumental issue facing the healthcare industry. Alex Mirza's book provides a marvelous pragmatic road map to meritocracy, innovation and pay for performance in any service industry. A must read!" - Jonathan Bush, CEO of Zus Health and Co-founder CEO, Athena Healthcare

4

"My management colleagues and I understood thoroughly the first order differences in performance associated with variation across talent among property leaders, and the financial consequences of these differences. Likewise, we could measure the often ten fold difference in both productivity and service quality across talent among front line employees. The problem was what to do about it, at scale.

5

"All of us in the hospitality industry know we are facing a crisis in recruiting and retention. Talent Disruption goes beyond diagnosing the problem and charts a path forward using data- and AI-driven strategies to revolutionize human capital. Alex brings a fresh approach to solving talent discovery and empowerment in the service sector. A highly recommended read." -Harry Gross, Real Estate Developer and Chairman of G. Holdings LLC

6

"While Talent Disruption focuses on the disconnects between talent management, compensation and value creation in the hotel industry, the insights are equally applicable to the restaurant and retail industries. As Mirza creatively and powerfully illustrates, talent is a highly leverageable and brandable differentiator, and companies should design compensation systems and marketing programs to fully leverage that power and value." -Rick Vanzura, CEO of Freight Farms, and former CEO, Wahlburgers and Panera Bread

7

"Speaks to the alarming labor challenge confronting the hospitality industry and the imperative to change the model and innovate for how labor is engaged and retained within the sector." -Douglas Tutt, CEO of HCareers, leading U.S. hospitality, senior living and gig economy employment site.

8

"Our industry faces a foundational challenge in rethinking traditional business models to rebuild our talent pipeline and, once again, become an employer of choice. As one of hospitality's most innovative thought leaders, Alex's work comes at a pivotal time, providing much-needed, research-based answers to the most critical questions facing today's travel and tourism executives." -Adam Burke, CEO of LA Tourism Council & Convention Board

9

"With the world in flux and the hospitality industry at a crisis point, we are currently at the precipice of a new era of AI-driven upheaval and post-pandemic paranoia. Alex Mirza gives us a clear and concise road map to navigate these rough waters, with insights on how to harness the technological tools in our marketplace and to filter and analyze the vast amounts of data at our fingertips. Talent Disruption is a must read for anyone who is interested in maximizing and optimizing talent development." -Wilburt Chang, Chairman and CEO of Greater China Hospitality

10

"Provocative! Alex has done a masterful job of assembling data to help drive better decisions around human capital and rightly challenges old ways of thinking about talent. Whether you agree with all his conclusions or not, it is not debatable that employees must always be a top priority. Otherwise, your organization will struggle and never realize its full potential." -Beverly K. Carmichael, Independent board member and former Chief People Officer at Southwest Airlines, Ticketmaster, and Cracker Barrel Old Country Store

11

"If you are a CEO feverishly looking for Artificial Intelligence insights to revolutionize your business, look no further. Talent Disruption equally educates and empowers you to embrace the change emerging within talent broadly and hospitality specifically. Decoding the intangible power of the immigrant experience is the byproduct of this fascinating journey led by Alex Mirza." - Alex Dixon, CEO of nonprofit Q Casino and former President and COO, MGM Circus Circus

12

"Alexander Mirza does what leaders do. He sees what is unseen, and in this book issues a rallying cry to accelerate the value of hospitality's main driver, the people who power it." -Thomas Magnuson, CEO of Magnuson Hotels Worldwide

13

"Talent Disruption sheds light on an undeniable truth: hospitality is losing ground in the talent marketplace. Through in-depth research, Alex Mirza provides an applicable and disruptive roadmap for building a talent-centric culture that can drive innovation, growth, and competitive advantage in the industry. " -Joe Rice, Managing Partner, JDI, JDI is twice ranked by Forbes as one of the Best Executive Recruiting Firms in America.

14

"Few people could do what Alex Mirza has done – written a book on Talent Management and Disruption that combines both hard data analysis with proven managerial insight. Building on his decades of experience and proven leadership in the hospitality industry, he has produced a rigorous and accessible book that should be required reading for anyone hoping to grapple with the modern talent management challenges this industry faces." -David Detomasi, Associate Professor, Smith School of Business, Queen's University, Kingston, Ontario, Canada.

15

"Talent Disruption by Alex Mirza is a game-changing exploration of the evolving service industry landscape. With its cutting-edge insights on AI-driven HR solutions and employee empowerment, this book paves the way for a revolutionary approach to talent management. Discover your blueprint for success in this indispensable read." - Anita Gupta, Forbes 50 Over 50 Entrepreneur; Founder, KiwiTech

16

"In Talent Disruption, Alexander Mirza has dedicated some powerful research into the biggest concerns impacting global hotel operations today, with 85% of hotels currently understaffed in the USA alone, and others grappling to hold onto their employees. He identifies various new 'disruptors' such as Big Tech, that have evolved over the past decade which not only impact human resources in the traditional sense, but the entire outlook on how you operate your hotel.

17

It is not every day one comes across a book that manages to marry innovative and profound insights into the current state and future prospects of the global hospitality industry with a stimulating and creative discussion of recent debates in international relations theory. Yet this is exactly what author Alex Mirza has accomplished in his fascinating new study into the challenges facing the industry in an era increasingly being labeled by some scholars as one of "de-globalization."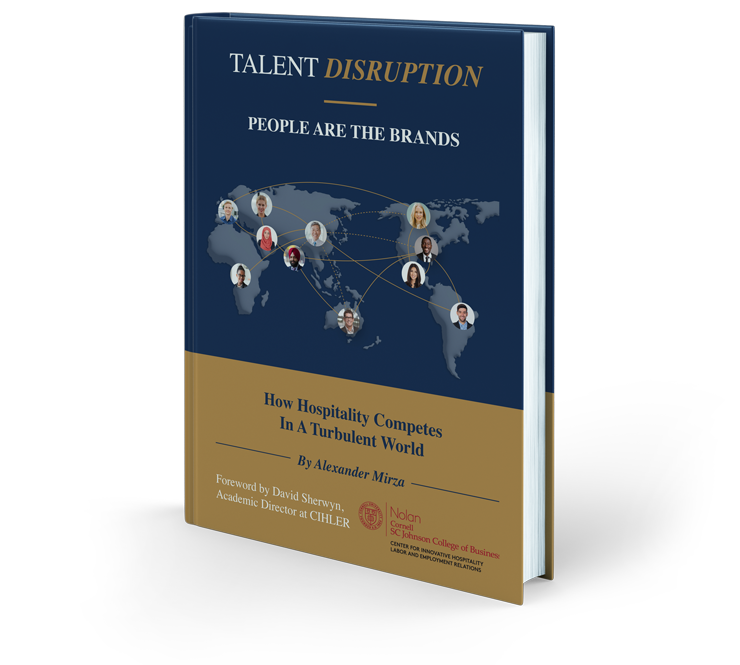 About the book
This book proposes a solution to the human capital challenges faced by service industries amidst unprecedented labor shortages, and technological and geopolitical shifts. It offers a framework for diagnosing the root causes of talent disruption. The book provides a detailed roadmap and tools for building a talent engine powered by AI, big data, and analytics. The results are a growing talent pipeline, greater productivity, and higher profit margins.
Foreword by David Sherwyn
Academic Director at Cornell Center for Innovative Hospitality Labor
and Employment Relations (CIHLER)


01
Introduction
Global Talent Disruption
02
The Brutal Facts
Rebuilding the Servide
Profit Chain
03
Asset Right
Building Human Capital
in An Era of High Finance
04
Talent Valuation
Bringing Moneyball to Hospitality
05
People First
Establishing A Culture
of Ownership
06
A New Talent Engine
Leveraging AI to Scale
Human Capital
07
Cross Cultural Advantage
Rescuing Globalization
08
Final Toughts
Hospitality's Great Reset
WHAT IS TALENT DISRUPTION?
A talent disruption is the process by which traditional labor ends and talent shifts from legacy full-time employment to higher paying, more flexible work, facilitated by technologies that empower individuals to build a personal brand. As disruption grows, talent ruthlessly migrates to the highest paying and most flexible sources of work, leapfrogging inefficiencies in hierarchies of legacy industries
Harvard Business School researchers have dealt with technological innovation to meet customer needs and bring about market disruptions. But there is another paramount disruption that is going to seriously and radically alter the performance of any industry, including the hospitality industry, which is TALENT DISRUPTION," writes Alexandar Mirza in a recent hospitalitynet article.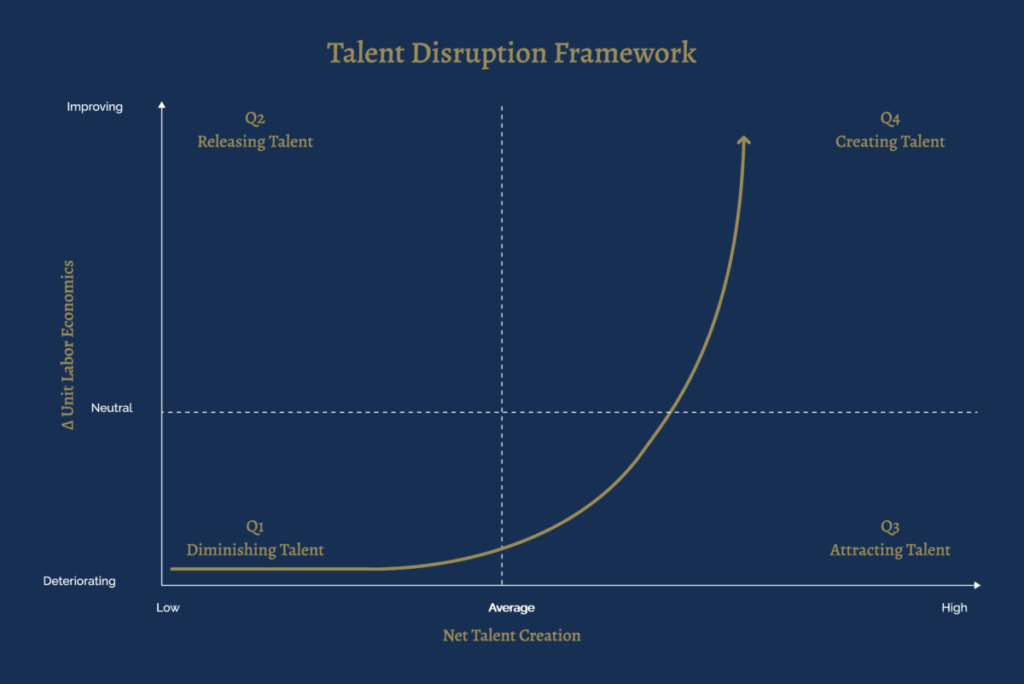 We developed a theory that predicts when talent disruption occurs along with a typology for its various forms and most importantly depending on their position, what incumbents can do to either mitigate or accelerate each type of disruption. The Talent Disruption Framework evaluates two critical dimensions: talent creation, measuring an organization's ability to attract and retain elite talent, and unit labor economics, gauging talent costs relative to product or service output. By analyzing the disruption curve, industries, and organizations can identify opportunities to address customer needs through innovative operating models, leading to significant long-term shifts in labor markets.