CABO SAN LUCAS, Mexico, Jan. 16, 2017 — CACHET Hospitality Group (CHG) and Cabo Villas Beach Resort and Spa announced today the debut of Cachet Beach Hotel & Beach Club in Cabo San Lucas, Mexico. The opening represents the first phase of Cachet Corazon, CHG's first dual-branded resort destination; the second phase, Cachet Deluxe Los Cabos, is set for completion in 2018. Boasting 77 stylishly re-imagined rooms, a sizzling Beach Club, Aleta Seafood Grill, Bar and Sun Deck, three chill wet areas and rejuvenating spa experiences at Spa Ritual, Cachet Beach redefines beach chic for the modern traveler.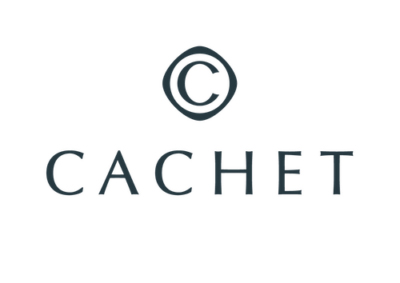 "As development in Los Cabos continues to explode from the Pacific side all the way to the East Cape and the Cabo market becomes more sophisticated, our prime Medano Beach location is more coveted than ever," said Chris Erickson, owner and developer of CVBR. "With our transformation into Cachet Beach Hotel and our new Beach Club solidifying our footprint on Medano, we know we're capable of not just standing out in this marketplace – we're poised to set a new standard for what is Main Beach Cabo."
In tandem with Rabago Artiquitectors & Consultores, Cachet Interior Design (CID) revamped the former Cabo Villas Beach Resort and Spa into a Cabo original showcasing local artistry, relaxed culture, and breezy sociability. Inspired by the colors and legends of the Sea of Cortez, the spacious new accommodations – ranging from swank studios to lavish three and four bedroom penthouse suites to a private beach house – are defined by an eclectic but harmonious interweaving of Mexican art, local patterns and vibrant hues.
Cachet Beach's thoughtful, innovative amenities are designed to help guests maximize both fun and relaxation. In-room yoga mats, flip-flops, towels and beach bags are just some of the features that will help guests fully enjoy their time outdoors. Rooms will also include a number of high-tech luxuries that showcase CHG's focus on incorporating cutting edge technology into the guest experience. These features will include blue tooth speakers; RoomNetTVs that allow guests to stream their own media; and ASSA ABLOY wristband door keys, which are perfect for beachgoers who don't want to worry about losing their keycard.
The property is situated right on famed Medano Beach, one of Cabo San Lucas's most enviable locations. Guests will be staying just steps away from the gorgeous, swimmable Sea of Cortez and within walking distance to downtown restaurants, popular clubs, an upscale shopping mall, and a picturesque marina. For adventurous souls, Cachet Beach offers convenient access to an array of land and aquatic excursions. Dubbed the "World's Aquarium" by Jacques Cousteau, the Sea of Cortez is renowned for its sportfishing, snorkeling, scuba diving, and other thrilling water sports. Inland, guests can hit the links on the region's many world-class golf courses or get their adrenaline going through off-road ATV tours, off-road racing, bungee jumping, or ziplining.
While surfside spots and entertainment options abound in Cabo, the versatile Cachet Beach Club is primed to be the city's premiere day-to-night social destination, featuring an unbeatable location, impeccable service, luxurious amenities and tantalizing food and drinks. Plush open-air cabanas and daybeds, chill tunes, and full bar and menu service make soaking up the sun a total breeze. And when the sun goes down, the club turns up the heat, with live music, master DJs, and VIP bottle service transforming the space into an upscale nightlife oasis.
For those taking a break from the beach, the hotel also features three wet areas including pools, hot tubs, amazing sea or marina views, dynamic music, a swim-up wet bar, and towel, drink, and menu service.
Cachet Beach's bars and restaurants deliver amazing, locally-inspired culinary experiences. The signature restaurant Aleta combines striking beachside views, a laid-back vibe, and delectable Latin flavors, including a fresh seafood bar offering local catches, a taco station, and mixologist-crafted cocktails using locally-sourced ingredients. Open morning to night, a DJ will be spinning the perfect soundtrack for every savory bite throughout the day.
The hotel also retains its popular outpost of The Baja Brewing Company, the first and only microbrewery in all of Baja. Perched atop an epic rooftop patio, BBC delivers spectacular panoramic views to accompany its wide array of craft beers and delicious selection of both sophisticated entrees and comforting pub favorites.
Meredith Gelacak, Cachet Hospitality Group's President of Operations – Americas, said, "Cachet Beach has been an incredible collaboration by CHG and the Erickson Family. We are thrilled with the resort and hope it will be the favorite adult playground in Cabo. The panoramic views of the Sea of Cortez from the Aleta Sun Deck are some of the best in the world and we invite all of Cabo's locals and guests to join us there."
Cachet Beach will be distributed on Cachet World, CHG's revolutionary technology platform, and participate in the platform's loyalty program. Cachet World is a lifestyle community that features a search and booking engine for boutique and lifestyle hotels and high-end residences worldwide. Through the platform, guests of Cachet Beach will enjoy interactive mobility, exclusive member rates, and personalized food and beverage experiences.
Cachet Hospitality Group's global portfolio, including properties in the pipeline, extends across China, Thailand, Mexico and the United States. With an unprecedented opportunity for international growth, CHG is establishing itself as an international hospitality leader.
ABOUT CABO VILLAS BEACH RESORT AND SPA DEVELOPMENT GROUP
The Cabo Villas Group is led by President & CEO Christopher Erickson, Ilda Ledesma Martinez, Jed Erickson and Claudia Erickson. The Erickson family is onsite every day and personally involved in every phase of the operation and development. The company is a combination of Mexican hospitality and Midwestern work ethic, and, structured with 12 specialized corporate divisions, strategically designed to manage and develop every aspect of the resort to its fullest potential. The Cabo Villas Group has earned its reputation the old fashioned way; hard work and dedication are key, as well as its ability to successfully master the art of resort development through attention to quality, detail, and customer service. These values are supported and carried out each day by the most loyal staff in the industry.
ABOUT CACHET HOSPITALITY GROUP
Cachet Hospitality Group (CHG) is a lifestyle hospitality branding and management company with offices in Los Angeles, Shanghai and Bangkok. CHG's mission is to be the leading innovative and socially responsible hospitality company in the Asia Pacific and North America, with recent expansion into Cabo San Lucas and New York City. With numerous projects under development, CHG is focused on establishing properties in Greater China, Southeast Asia and the Americas. For more information, please visit www.cachethotelgroup.com.