The Asia-Pacific based lifestyle hotel brand launches its first property in Midtown Manhattan September 2017
NEW YORK, July 20, 2017 /PRNewswire/ — Cachet Hospitality Group, the Asia-Pacific based hotel management company opens its inaugural U.S. hotel, Cachet Boutique NYC, in Midtown Manhattan in September 2017.  The Cachet brand combines its design-centric aesthetic and East meets West hospitality, and infuses it with New York City flair to bring a unique food and entertainment experience to Manhattan. Cachet Boutique NYC will feature 105 rooms and villas, a Playboy Club NYC and two restaurants, EDEN and the Bellbrook.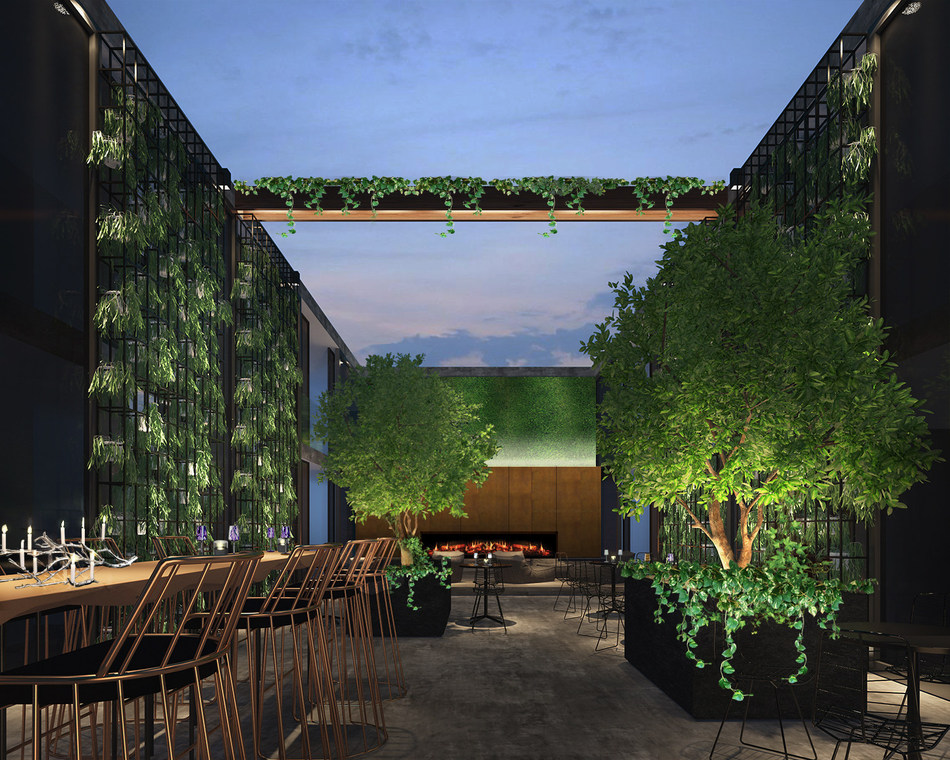 Cachet Boutique NYC Courtyard
"Cachet Boutique NYC will transport guests from the moment they walk through our glass doors into an oasis filled with the chicest rooms, seasonal food and beverage program and the best entertainment in New York," said Nicole Levinson, Senior Vice President of Brand Marketing and Partnerships. "The confluence of placing east and west design, art, and food alongside one another will be a Cachet brand staple and will distinguish the property in the competitive boutique hotel space."
Developed in partnership with Merchants Hospitality Group and designed by Cachet's Bangkok-based design team led by Domenic Sicoli and Pauline Choo, in collaboration with NYC's fashion designer Jay Godfrey, the property will feature robust programming that sets it apart from the crowded New York hotel offerings.
Cachet Boutique NYC has three discreet outdoor gardens, providing a unique urban oasis for guests to flow from the intimacy of their rooms to a spacious communal area. From outside yoga classes to after-work champagne tastings, these shared spaces will facilitate a variety of social gatherings and wellness experiences. Standard amenities include on-demand spa services, personalized meditation sessions by and in-room alternative wellness treatments.
At Cachet Boutique NYC, unexpected cultural and artistic collaborations will reinforce the sleek, contemporary ambiance. Longtime fashion-world darling Jay Kos will curate a dynamic retail experience to complement the hotel's high-end design and décor. In addition, the comprehensive hotel arts program will play a central role in highlighting the brands design-centric aesthetic, showcasing the best emerging modern artists from Asia and the U.S.
The guest experience at Cachet Boutique NYC is taken to the next level with a proprietary technology platform that will bring together bookings, reservations, CRM and social media. Cachet's platform is a luxury lifestyle community featuring a search and booking engine for boutique and lifestyle hotels and high-end residences worldwide. The platform's loyalty program also allows guests of Cachet Boutique NYC to enjoy interactive mobility, exclusive member rates, and personalized food and beverage offerings.
Located just steps from the action and vibrancy of Chelsea, Hell's Kitchen and the soon to be opened Hudson Yards, Cachet Boutique NYC offers a creative cultural mix of arts, design, food, entertainment, and retail, that will be a key influence and driver in the resurgence of this Manhattan West district.
EDEN Restaurant
Cachet Boutique NYC's new signature restaurant and bar, EDEN, will draw inspiration from the wellness movement, serving all natural, homemade breakfast, lunch and dinner. EDEN has been entrusted to restaurateur-extraordinaire David Laris, the vision behind such notable eateries as Porterhouse and Le Sheng.  EDEN will feature an extensive wine list, an array of globally inspired cocktails and world class dishes created by renowned Chef David Laris. The restaurant's one-of-a-kind garden oasis will be the ideal location for a chic starlit dinner, happy hour hangout, or group soirée.
Cachet Boutique NYC Courtyards:
Guests can sip on a cocktail or have a bite to eat in the hotel's indoor-outdoor dining experience. The space boasts a mesmerizing glowing fire pit, attentive service, refined aesthetics, and 2,000 square feet of outdoor space, providing guests with a unique al fresco atmosphere. Guests can also take advantage of the property's outdoor wellness and entertainment area. Featuring an array of spa services, it will serve as an ideal location for wellness-oriented, social day gatherings.
Cachet Hospitality Group
Cachet Hospitality Group (CHG) is a lifestyle hospitality branding and management company with offices in Los Angeles, Shanghai and Bangkok. CHG's mission is to be the leading innovative and socially responsible hospitality company in the Asia Pacific. With existing properties in Cabo, New York and greater Los Angeles and numerous projects under development, CHG is focused on establishing properties in Greater China, Southeast Asia and the Americas and expanding its technology offerings to enhance their guest experience.
Merchants Hospitality:
Founded 31 years ago, Merchants Hospitality and its Principals have owned, operated, and developed some of the most luxurious destinations in the country and Caribbean. Properties have included Hotels, Residential Condominiums, Office Buildings and Restaurants including 485 Fifth Avenue, currently home to the Hyatt Andaz, the Beekman Hotel at UN Plaza, 260 Park Avenue South Luxury Condominium, Aruba Starwood Hotel, Resort & Time Share, NYC's famous Pier 15 at South Street Seaport, and 350 Madison Avenue to name a few. Merchants also owns 18 premier restaurants in NYC including Philippe Chow on 60th and Madison, which is one of NYC's most profitable restaurants per NYC F&B 2016. Merchants is currently developing multiple lifestyle hotels worldwide.  For more information, please visit www.MerchantsHospitality.com.