SHANGHAI, July 15, 2013 /PRNewswire/ — Cachet Hotel Group (CHG) today announced an innovative global hospitality venture featuring culinary excellence, celebrity design and personalized service. The CHG portfolio will include Shanghai's URBN hotel and two new brands – r. hotel and Cachet hotel and residences, which will make its debut in Bangkok, Thailand.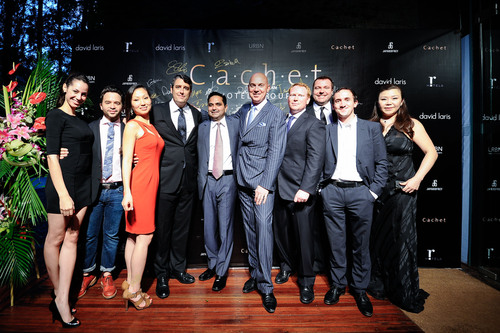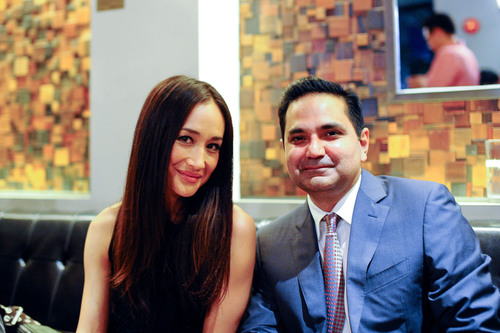 CHG's mission is to become the world's most innovative and socially responsible hospitality company. CEO and co-founder, Alexander Mirza stated, "Our strategy is to be a fully integrated management company that is known for business model innovation. Personalization is of paramount importance. Our guests will experience continuous innovation in eating, drinking and living throughout our collection. We will also be known for leading the industry in environmental sustainability and community development."
The Cachet Hotel Group's portfolio of brands will include:
URBN – 

China's

 Green Brand. Renowned as a multi award-winning hotel, URBN is the gold standard for eco-tourism. URBN Shanghai will undergo renovations in 

August 2013

 with the partnership of celebrity designer 

Jay Godfrey

 and its current manager, Interstate 

China

. The URBN brand will expand across 

China

 and 

Southeast Asia

 as managed and franchised boutique hotels and villa resorts.
r. – 

Asia's

 Lifestyle Brand.  r. hotels will cater to young at heart explorers who are adopters of new technologies. Each r. hotel will be unique, paying homage to its city and neighborhood with a service style that features youthful, stylized, and positive surprises. r. hotels will be developed as a managed and franchised brand in cities and resort markets across 

Asia

.
Cachet – Global Luxury Living. Cachet hotel and residences will attract affluent connoisseurs, offering an "all-inclusive" luxury proposition. Cachet will feature highly personalized service, exceptional culinary experiences and spas that offer skin care and beauty treatments. Cachet hotel and residences will be primarily new build developments managed by CHG, located in gateway cities and destination resort markets worldwide.
Flagship Project in 
Bangkok
CHG has chosen Bangkok, Thailand – the world's number one tourist destination – for its global launch of Cachet hotel and residences. International visitors to Bangkok have increased by 15% per year since 2009 and are expected to reach 17.5 million by 2014.  "Bangkok is emerging as a major tourist destination for Asian travelers. Travel to Bangkok has increased by double digits for each of the past five years, and with iconic projects like this, the trend is likely to continue," said Rahul Bhatia, Group Managing Director of InterGlobe, South Asia's foremost travel conglomerate, and co-founder of IndiGo, India's largest airline by market share that also serves the Bangkok market.
Cachet Bangkok is part of a mixed use development comprised of over 150,000 square meters of retail and a four star convention hotel connected to Bangkok's public transportation system, main shopping malls and tourist attractions by Sky Walk. The 27-story Cachet property will feature 70 luxury hotel rooms, 224 serviced apartments, Laris fine dining, and a luxury branded spa. The breathtaking 400 square meter penthouses will include outdoor living spaces, in-room dining by celebrity chefs and dramatic panoramic views. Hallmark features of Cachet Bangkok will include a 270 square meter infinity pool, meeting and event space overlooking the city and a 400 seat entertainment venue that will feature production shows and concerts.
As part of its commitment to community development, CHG will be supporting Kai Sitthi charity foundation, an organization formed by overseas Chinese based in Bangkok, Thailand.
"We are extremely pleased to be partnering with Cachet Hotel Group to manage this iconic project," commented Chen Wen Nan, Co-President of Asia-ThaiYuan Construction and Development Co., Ltd. "We believe Cachet Hotel Group's deep understanding of the Chinese customer and professional management team will be key to making this project a success."
The construction at Smile Square will be managed by Asia ThaiYuan Construction and Development Co. Ltd, and will open for business by late 2016.
Cachet Hotel Group Leadership Team
CHG boasts a diverse management team comprised of multinational and multilingual executives from nine countries and fluent in several Asian languages.
CHG Chairman, Robert Roche, is an accomplished entrepreneur with over twenty years of experience launching consumer businesses in Asia, including Oak Lawn Marketing, the largest infomercial company in Japan, and Acorn International, a media and branding company in China. Mr. Roche was named by President Obama to the United States Trade Representative's (USTR) Advisory Committee and is a Board Member of Organizing for Action.
The CHG management team will be led by CEO and co-founder, Alexander Mirza, who brings over a decade of experience in hospitality development. In addition, Mr. Mirza was a partner in Accenture's global travel and transportation practice, where he advised CEOs and government leaders in infrastructure, airlines and online travel. Mirza has previously held senior level positions with Starwood Hotels and Resorts and at Hilton Worldwide, where he worked on the launch of Waldorf Astoria Hotels, celebrity chef partnerships and luxury spa developments. Mirza is a graduate of the Harvard Business School, where he was an Aga Khan Foundation Scholar.
CHG's Chief Creative Officer, Chef David Laris, has worked extensively in China and other Asian markets for the past 20 years. As China's most premier celebrity chef, Laris has developed a strong following in social media and through his television show "Dining with David and Sarah." In addition to featuring his own concepts in Hong Kong, Shanghai and Beijing, Laris, and CHG President of F&B, Aaron Griffiths, will develop an all-star lineup of celebrity chefs and restaurant brands in Asia.
New York-based fashion designer, Jay Godfrey, known for his collection of sleek and sophisticated designs, will be the lead designer for CHG's hotel brands. Adored by the fashion world and showcased by luxury retailers such as Neiman Marcus and Nordstrom, Godfrey's designs have captured a loyal celebrity following, including Jennifer Lopez, Carrie Underwood, Taylor Swift and Eva Longoria.
CHG's business development team includes multilingual executives who have a broad experience in real estate development throughout China, Southeast Asia and the U.S. including Yvonne Choi, Managing Director, Kimy Chen, Vice President Business Development for Luxury Brands and Jan Lu, Vice President Business Development for Lifestyle Brands. Rounding out the management team are CFO Martin Key, an investment banker with private equity experience in China and Isabelle Dugal-Thompson, Vice President of Brand Marketing.
CHG is currently working on projects in various stages in China, Southeast Asia, India and the U.S. and expects to make further announcements later this year.
Cachet Hotel Group:
Cachet Hotel Group (CHG) is a Hong Kong-based management company established in May 2013. Chairman Robert Roche initially co-founded the URBN Shanghai in 2008, adhering to a sustainable philosophy and creating the very first carbon-neutral hotel in China. Building on this success, CHG was formed, creating two new hotel brands, r. and Cachet, and taking the URBN brand to the next level. CHG commits to being a company that "cares" with a corporate mission revolving around innovation, luxury and personalization. With numerous projects in the works, CHG is aiming to establish their first outlets in Greater China, Southeast Asia and India.